Bolin – 668 Peninsula Drive, Lake Almanor Country Club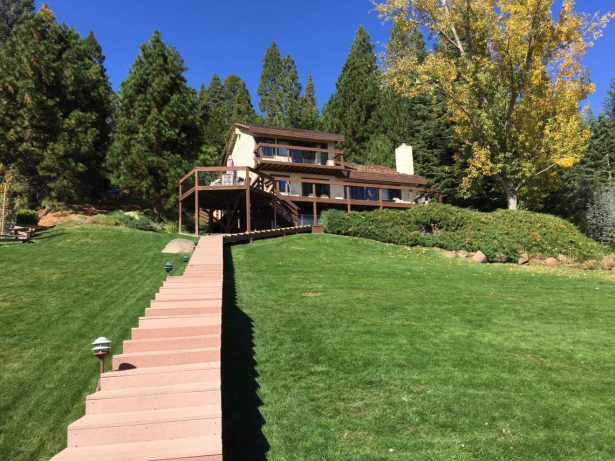 Enjoy stunning views of Lake Almanor and Dyer Mountain from this spacious lakefront home in the Lake Almanor Country Club. Many rooms in this large home take advantage of these incredible views, as well as the multi-level decks overlooking the blue waters. An expansive green lawn with a wooden walkway leads you to the water's edge, with a sturdy set of stairs to take you to the large, private dock. Two buoys are in place for your boats and other watercraft. Some of the best fishing at Lake Almanor is right off shore at this popular Peninsula Drive location.
This is a three-story home with 5 bedrooms and 3 bathrooms, plus a small additional sleeping area. The main level offers the charming great room with vaulted wood ceilings and woodstove, which opens to the dining area and kitchen. The view will wow you through the lakeside windows. Also on the main level you will find two bedrooms and a full bathroom. The upper level is home to the master suite with lovely private balcony and amazing views, plus the master with a large tub and shower. The lower level of the home houses a large family-type bedroom with 2 California King beds and a fold-out sofa sleeper, a small room with 2 twin bunkbeds, and a third very small room with a double futon. Walk out the lower level to access a third deck area, and the path to the water.
Cable TV with 2 TVs, 1 DVD player
High Speed Wireless Internet
*INTERNET IS PROVIDED AS A COURTESY, HOWEVER, IS NEVER GUARANTEED.
5+ Bedrooms / 3 Bathrooms
Maximum Occupancy: 14
Maximum Vehicles: 5
Beds Include: 3 Calif. Kings, 1 Queen, 2 Twin Bunks, 1 Double Futon, 1 Twin Futon, 1 Queen Sofa Sleeper
Sheets, towels, and paper goods are not provided.
*LACC REGISTRATION FEES are $120, plus boat fees of $100 per vessel, per week.
See the LACC website here: http://www.lakealmanorcountryclub.org/outside_home.asp
This home may ask a premium rate for holidays
*$4,200 week of the 4th of July, Labor Day 3 nights $1800.
View of Home from the Water's Edge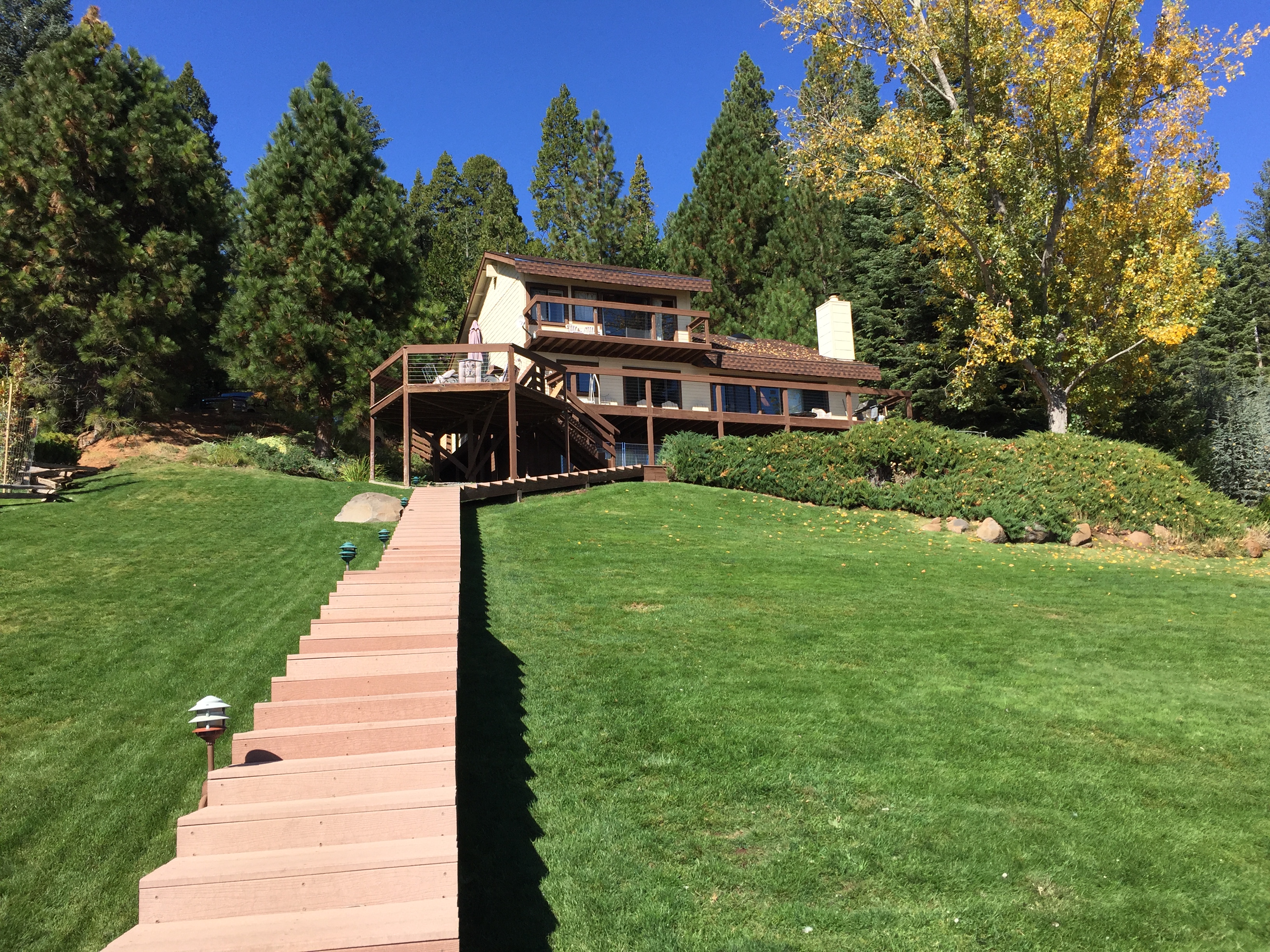 One of the Patio Tables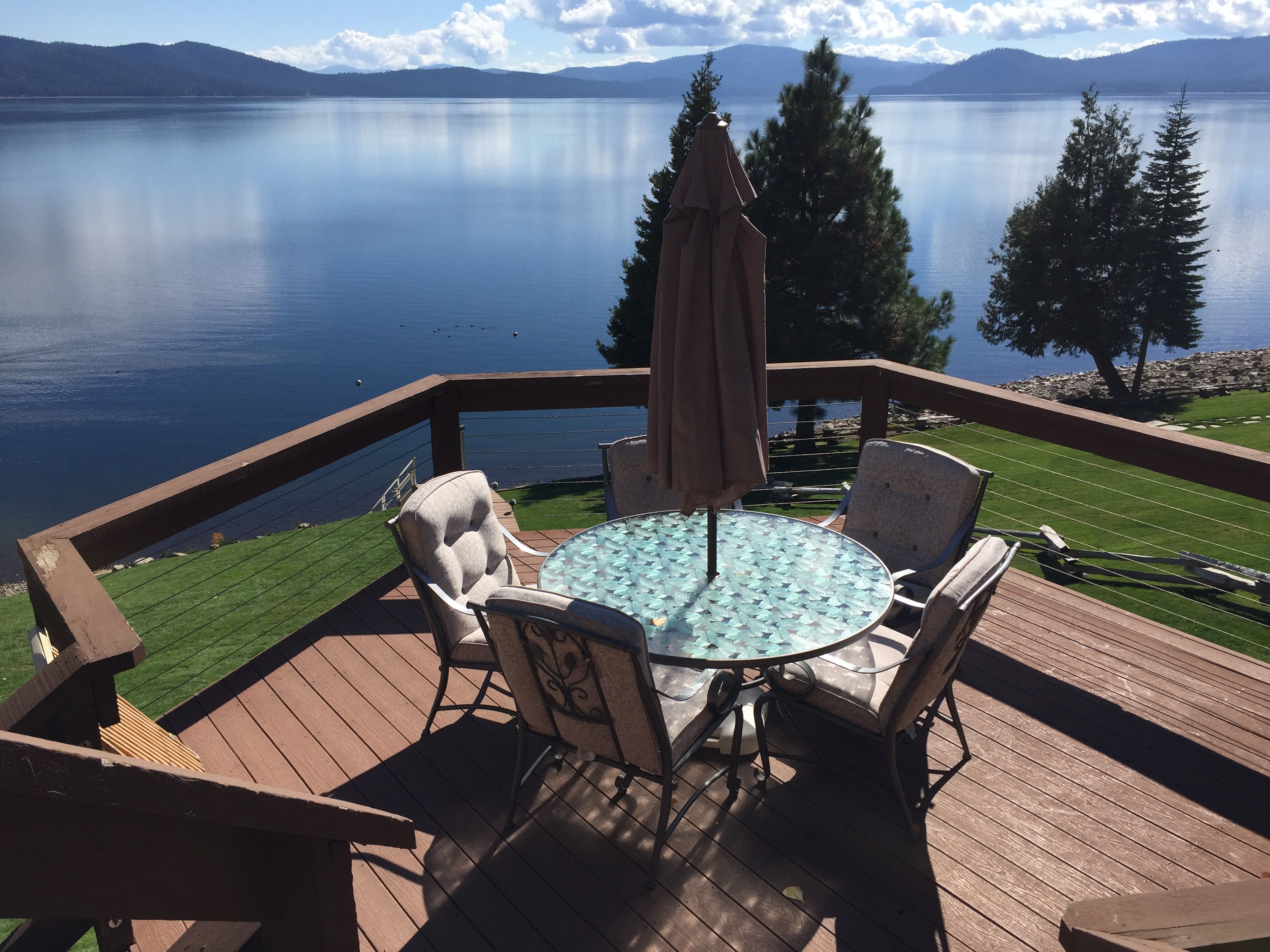 Stunning Lake and Mountain Views from the Deck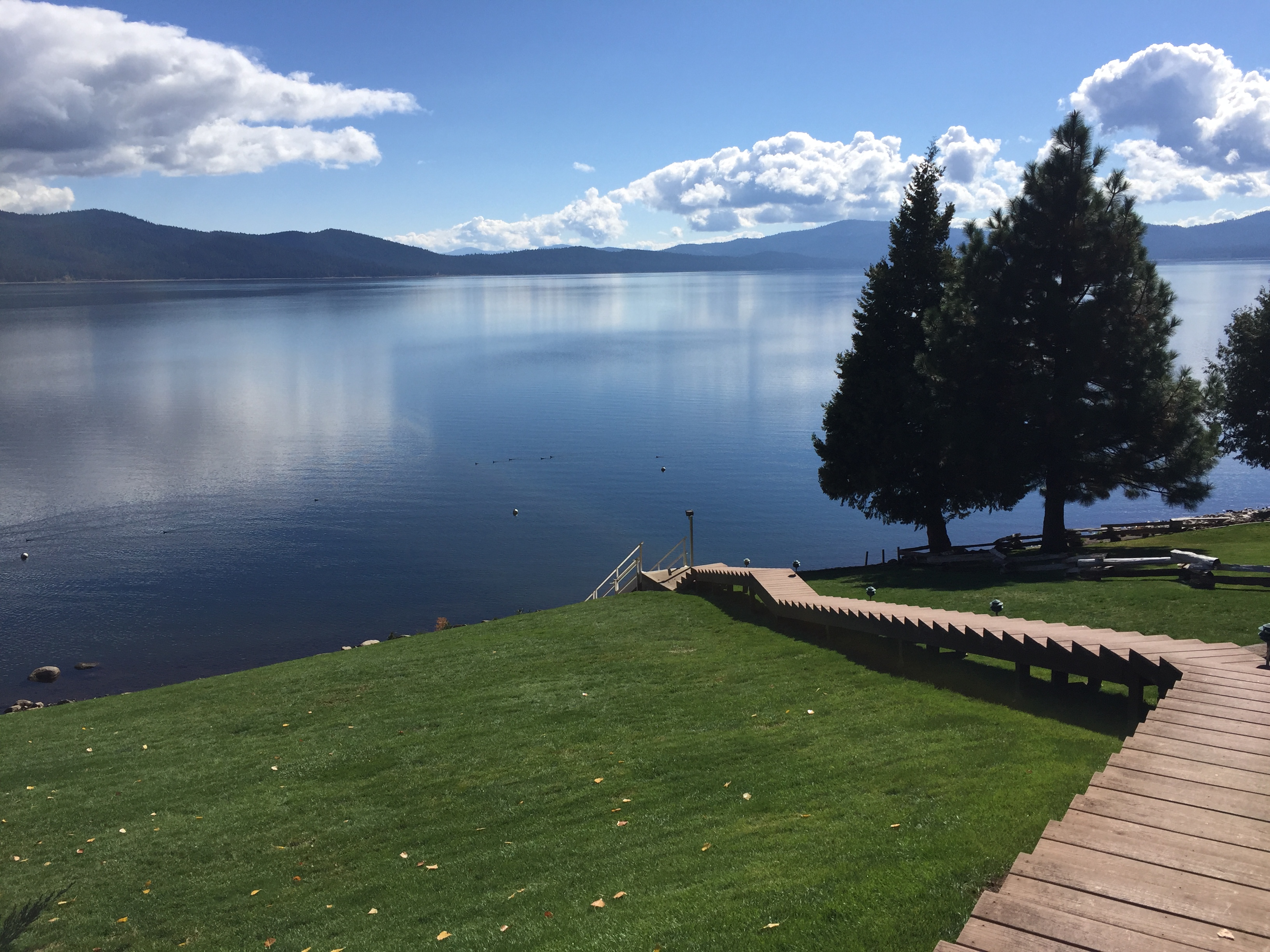 Living Area with Vaulted Ceilings and Woodstove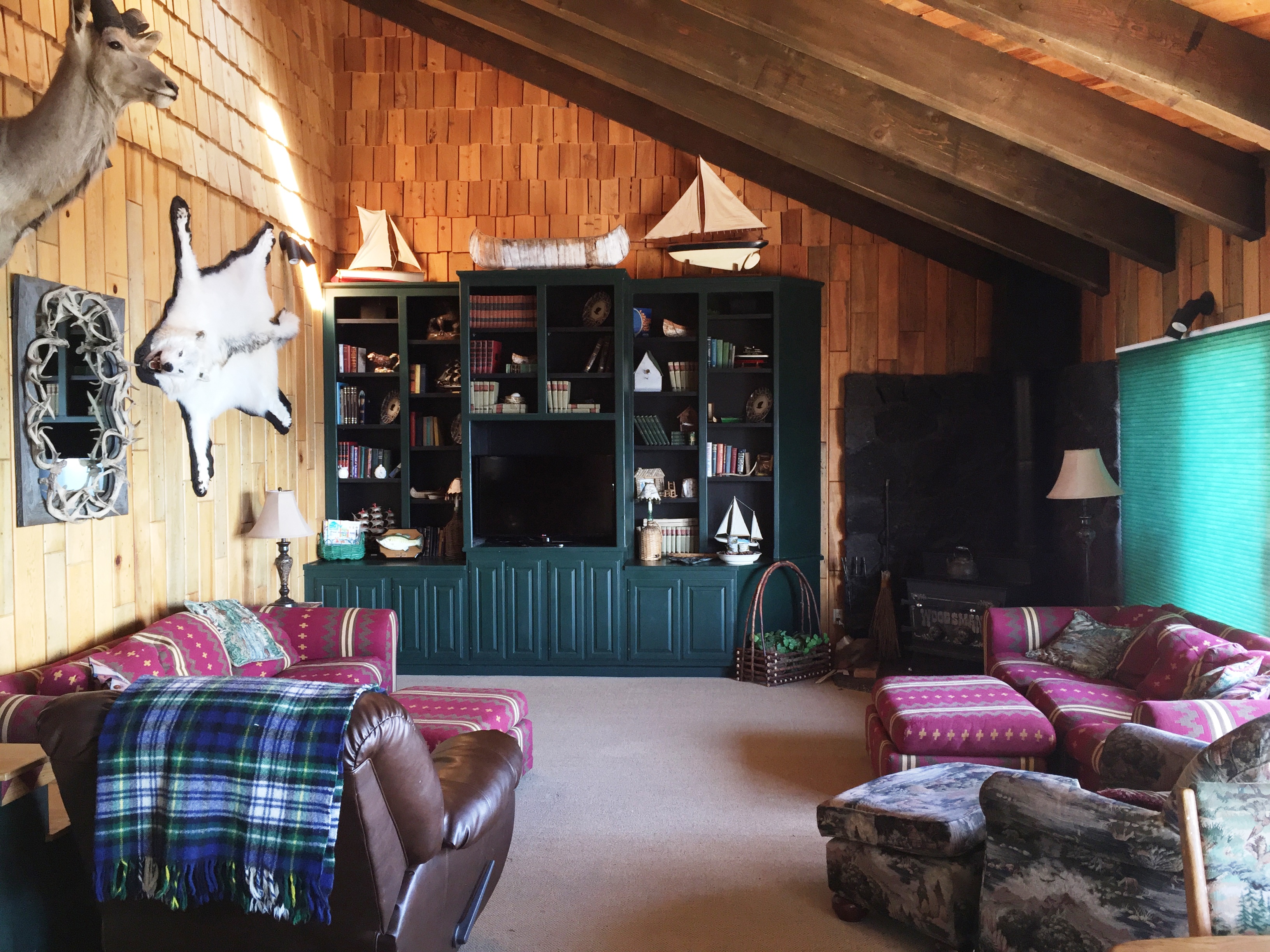 Entertainment Center has Flat Screen TV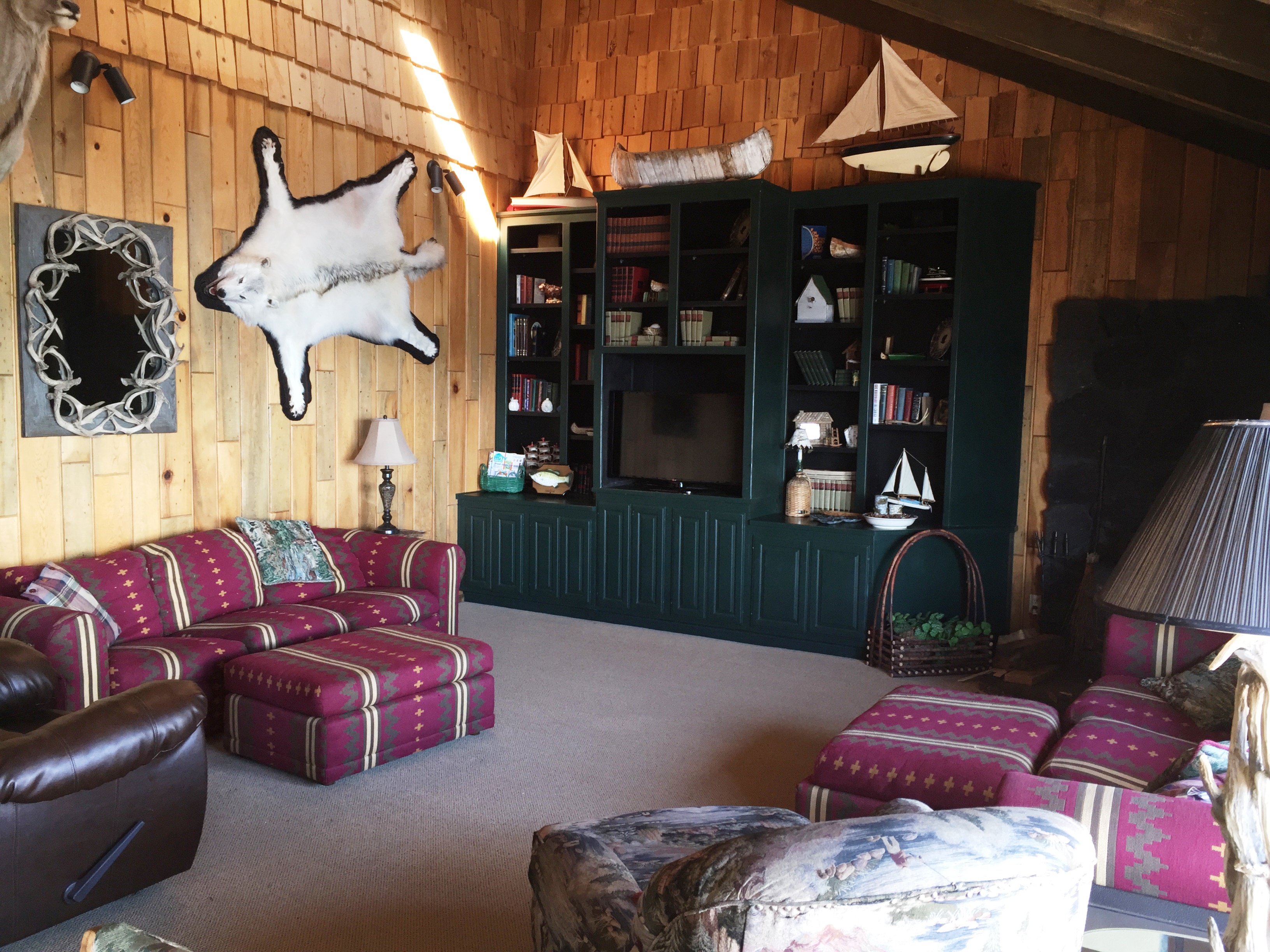 Large lake views from many rooms in the house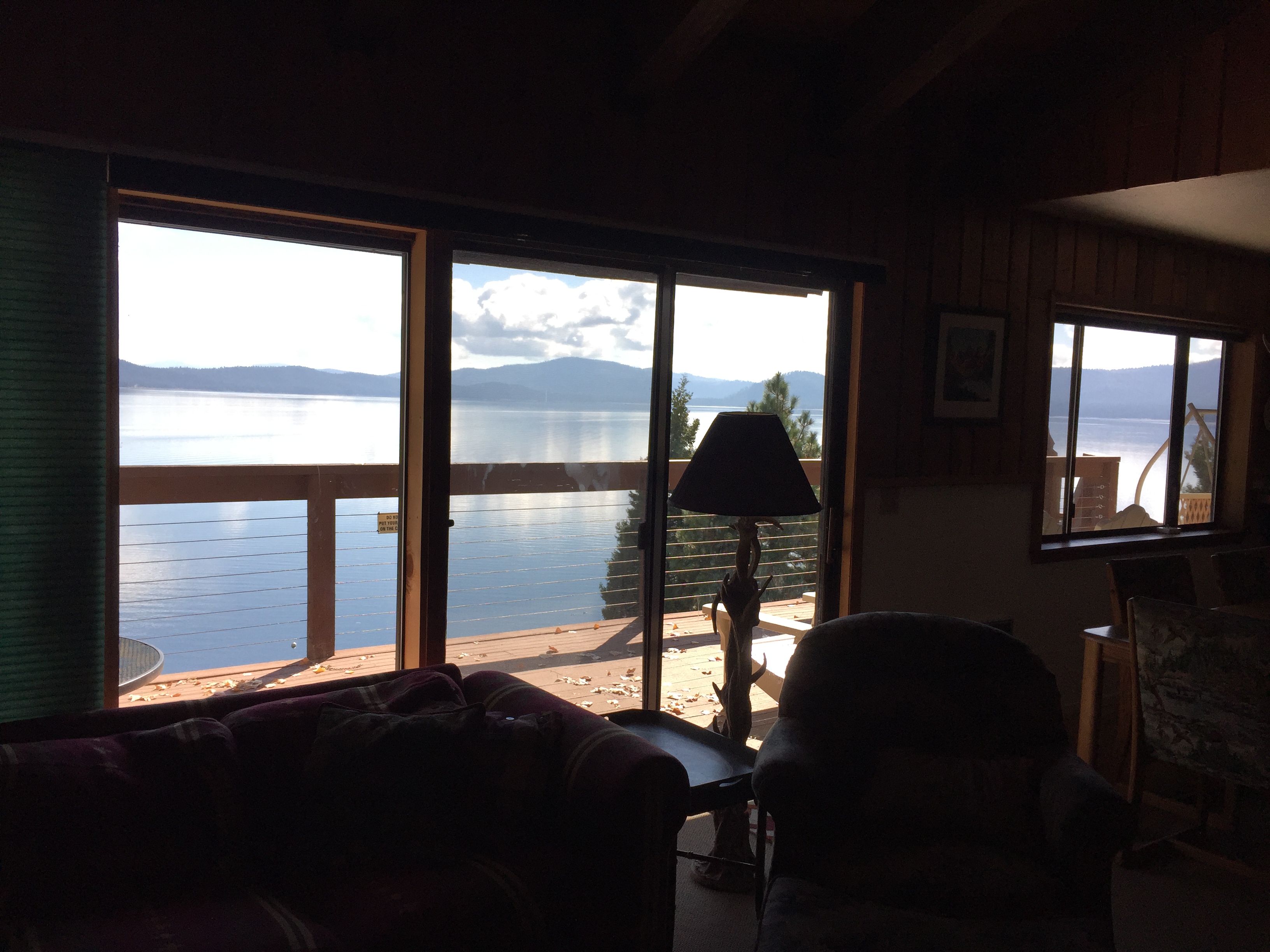 Dining and Kitchen Area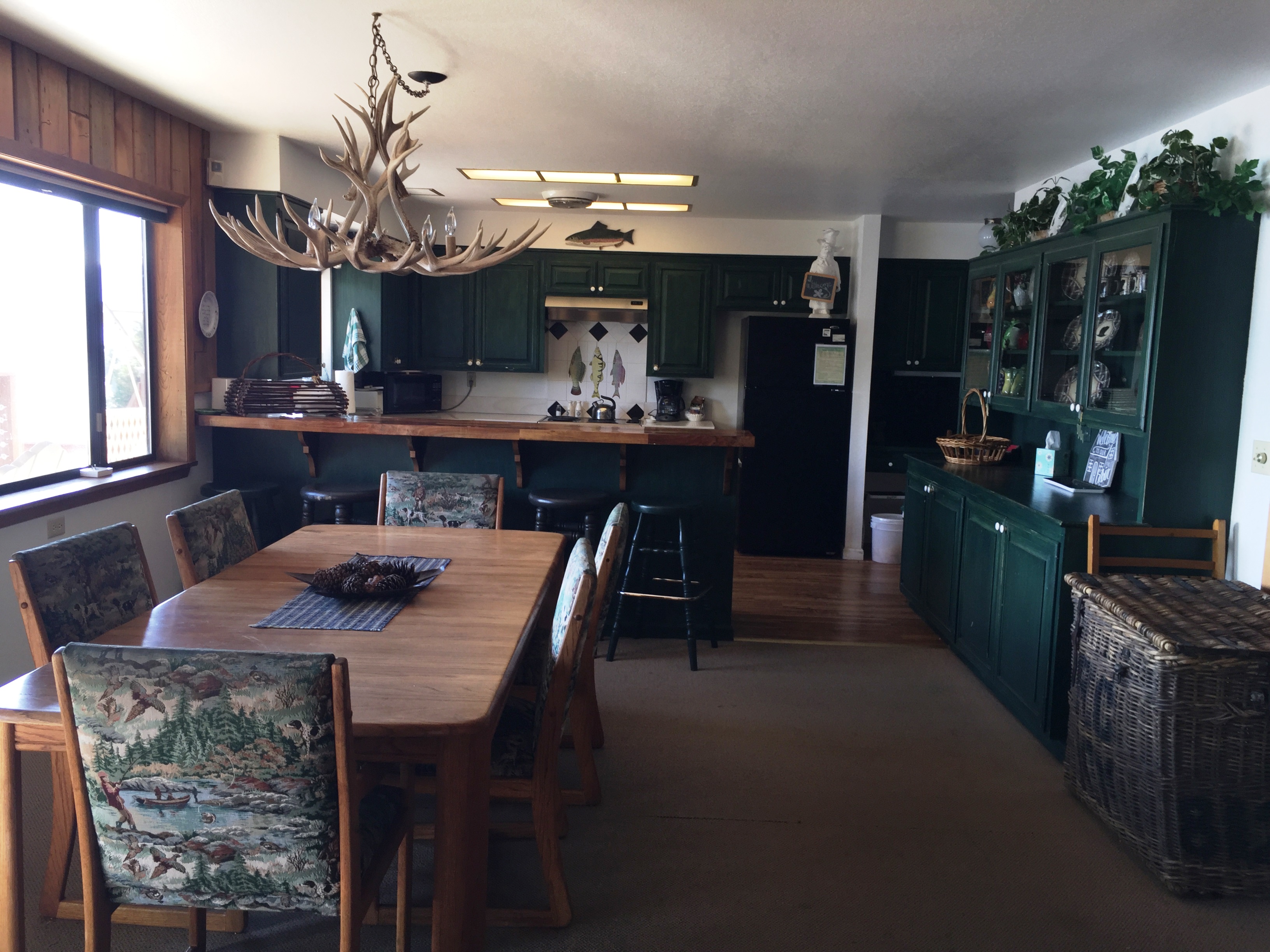 Kitchen with Counter Seating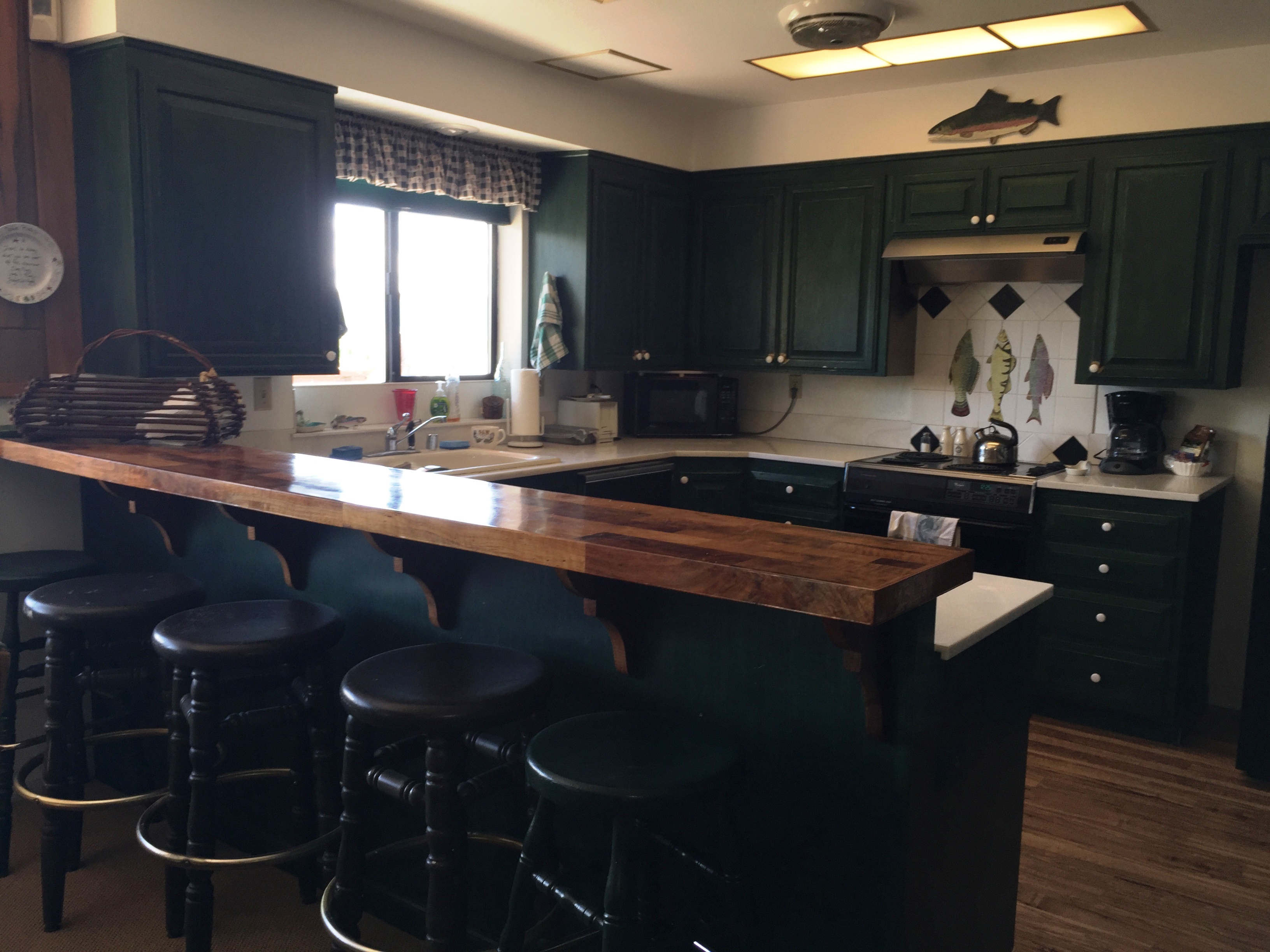 Kitchen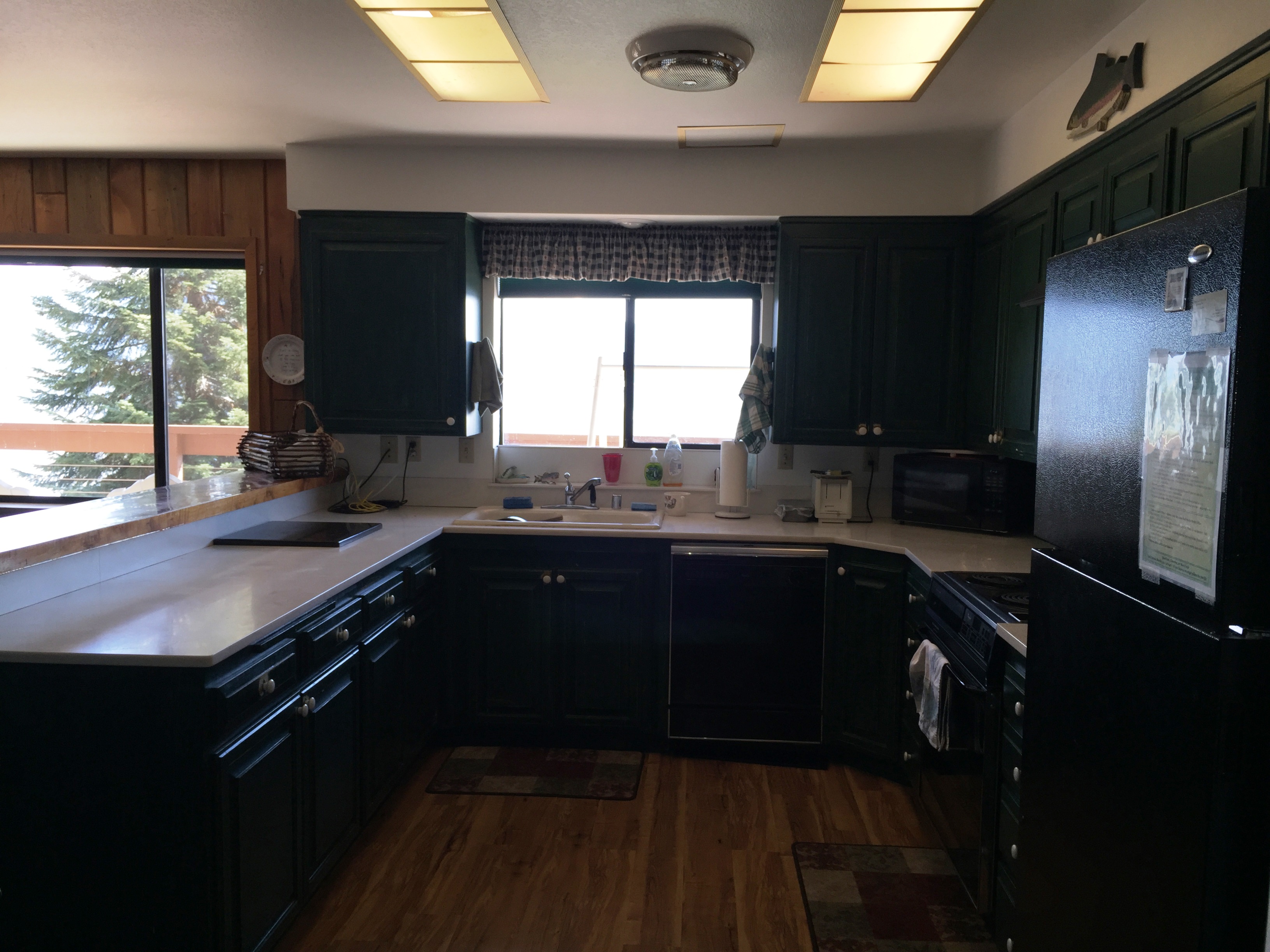 Upper Level Master Bedroom with California King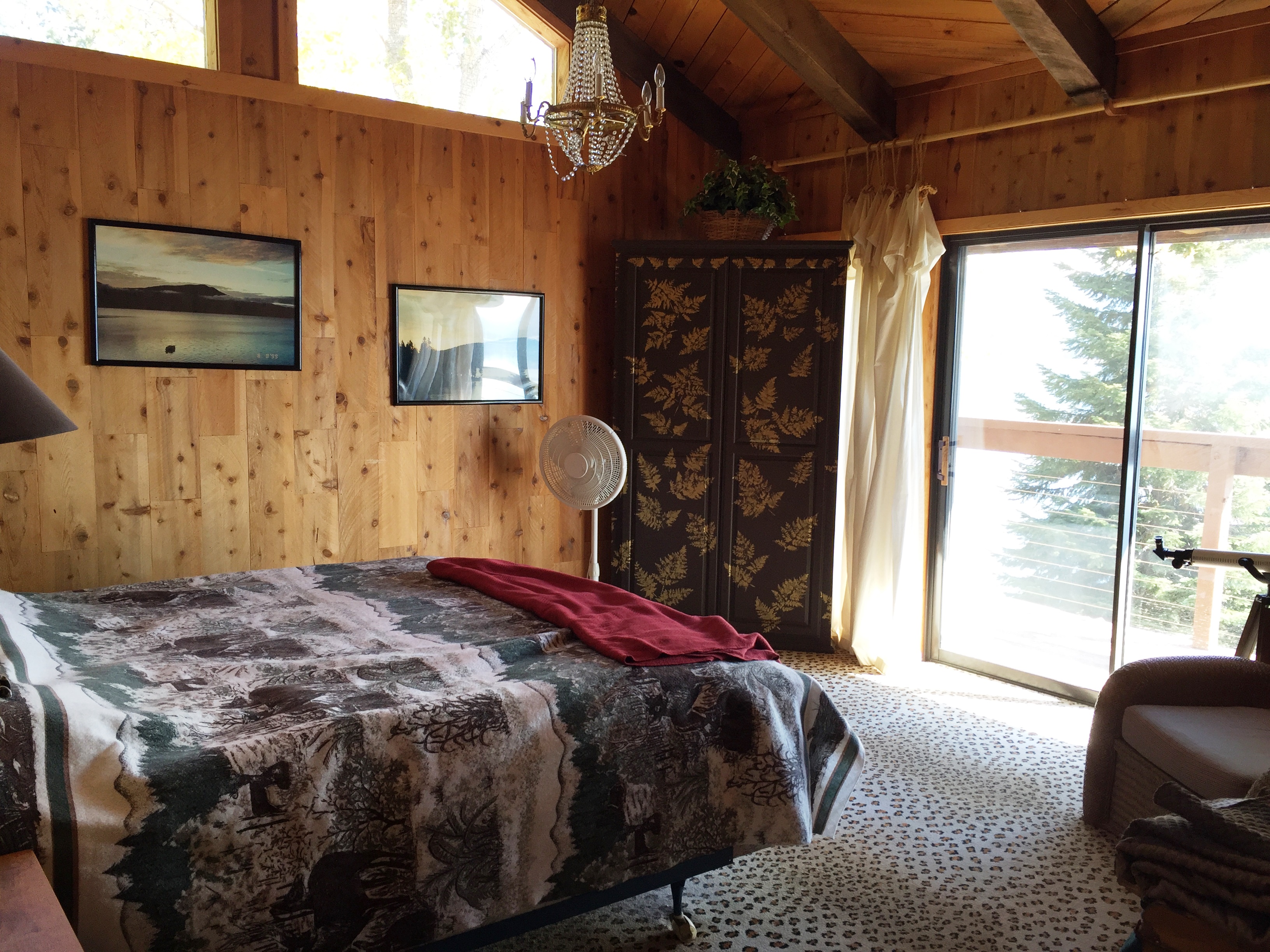 California King in Master Bedroom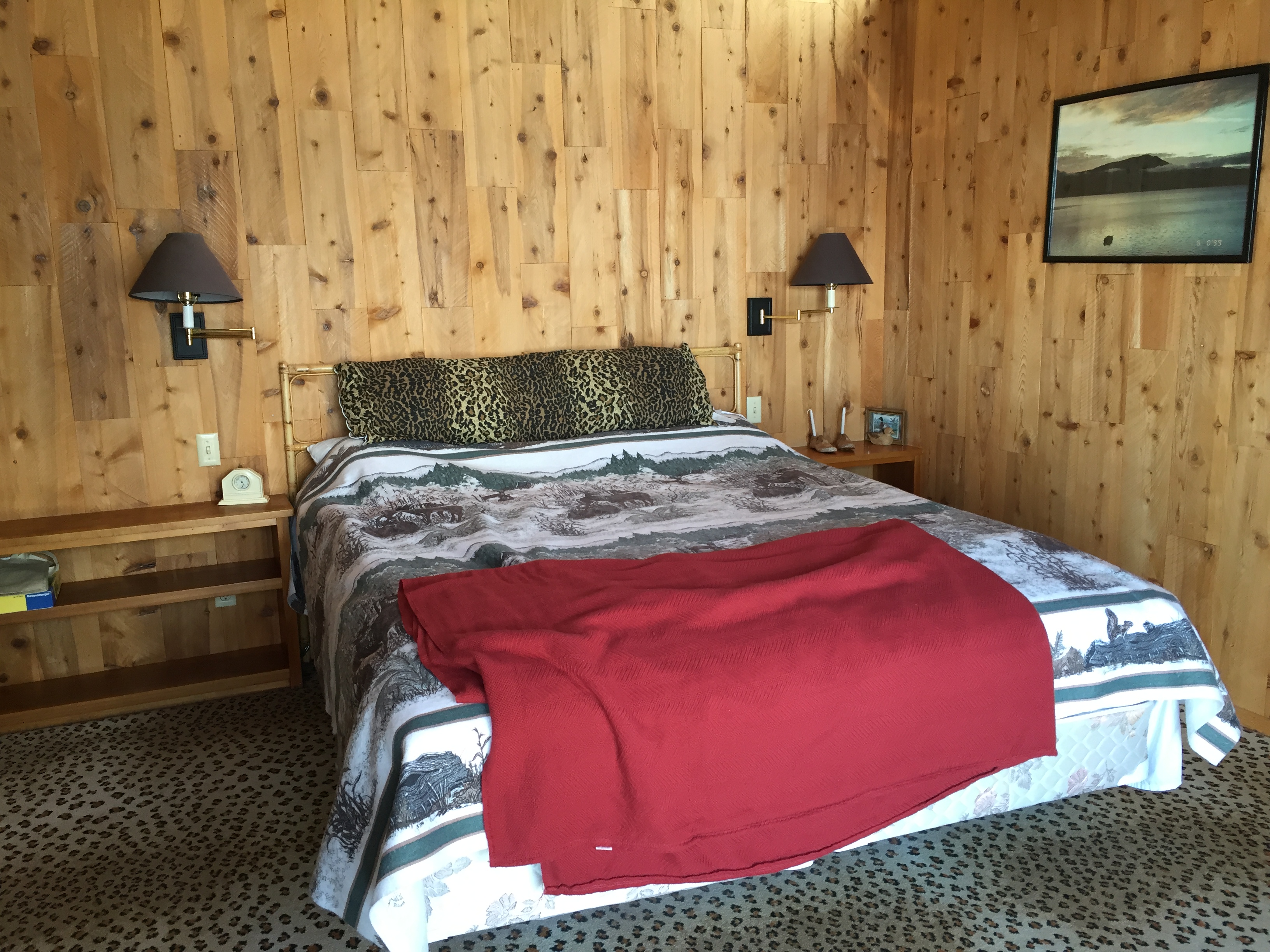 Excellent Lake and Mountain Views from Master Balcony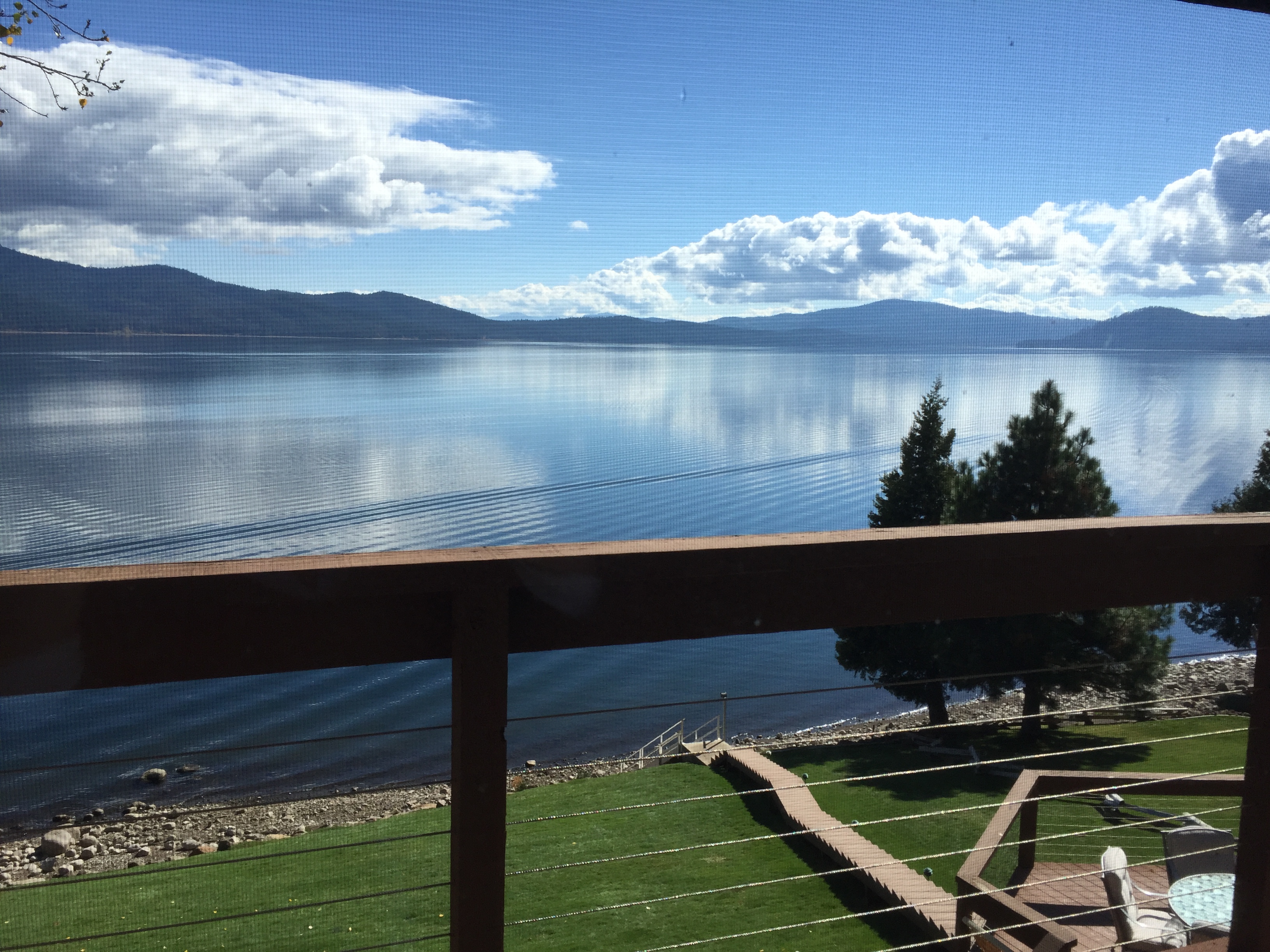 Master Bathroom with Large Tub/Shower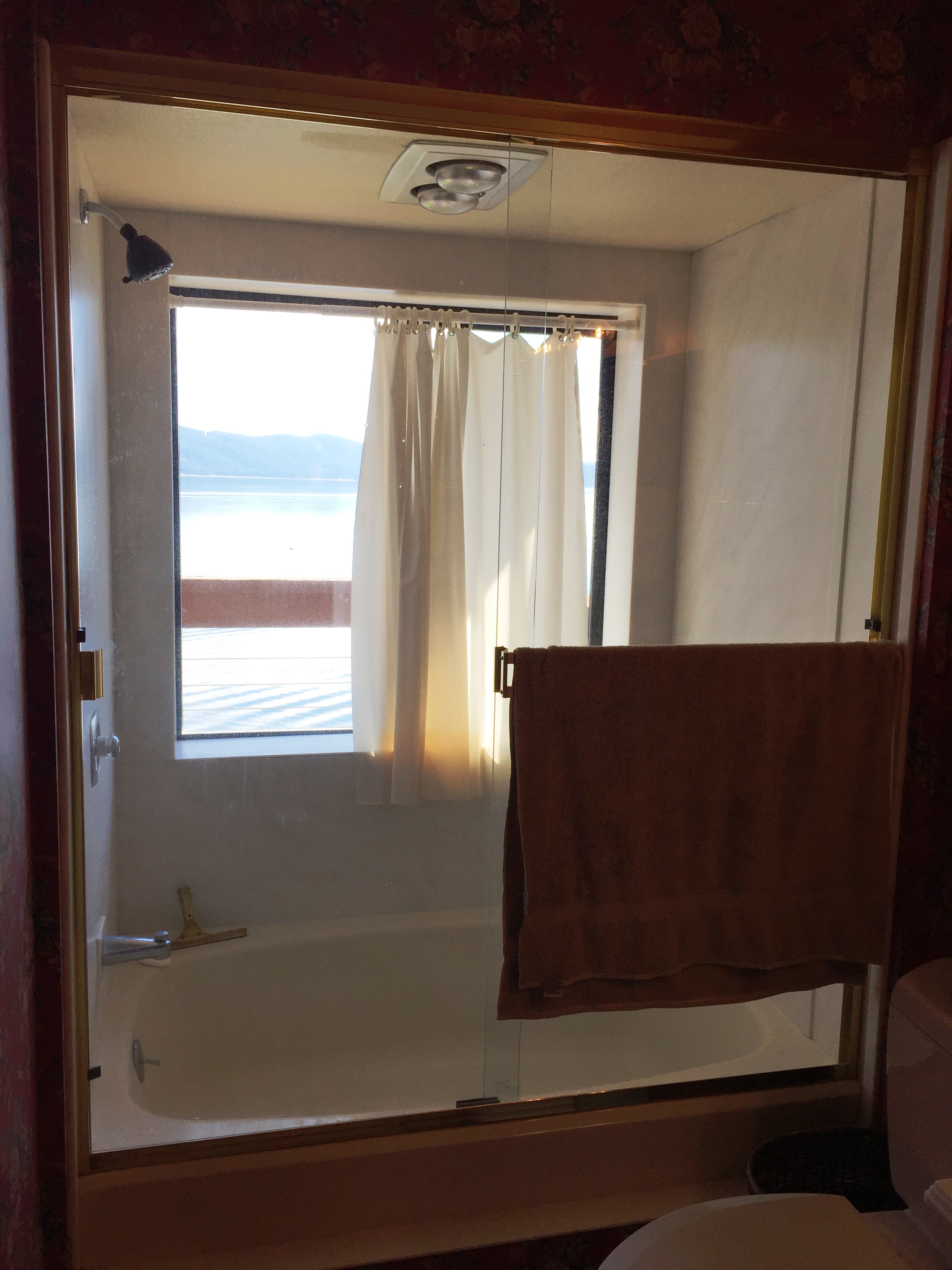 Master Bathroom with Large/Tub Shower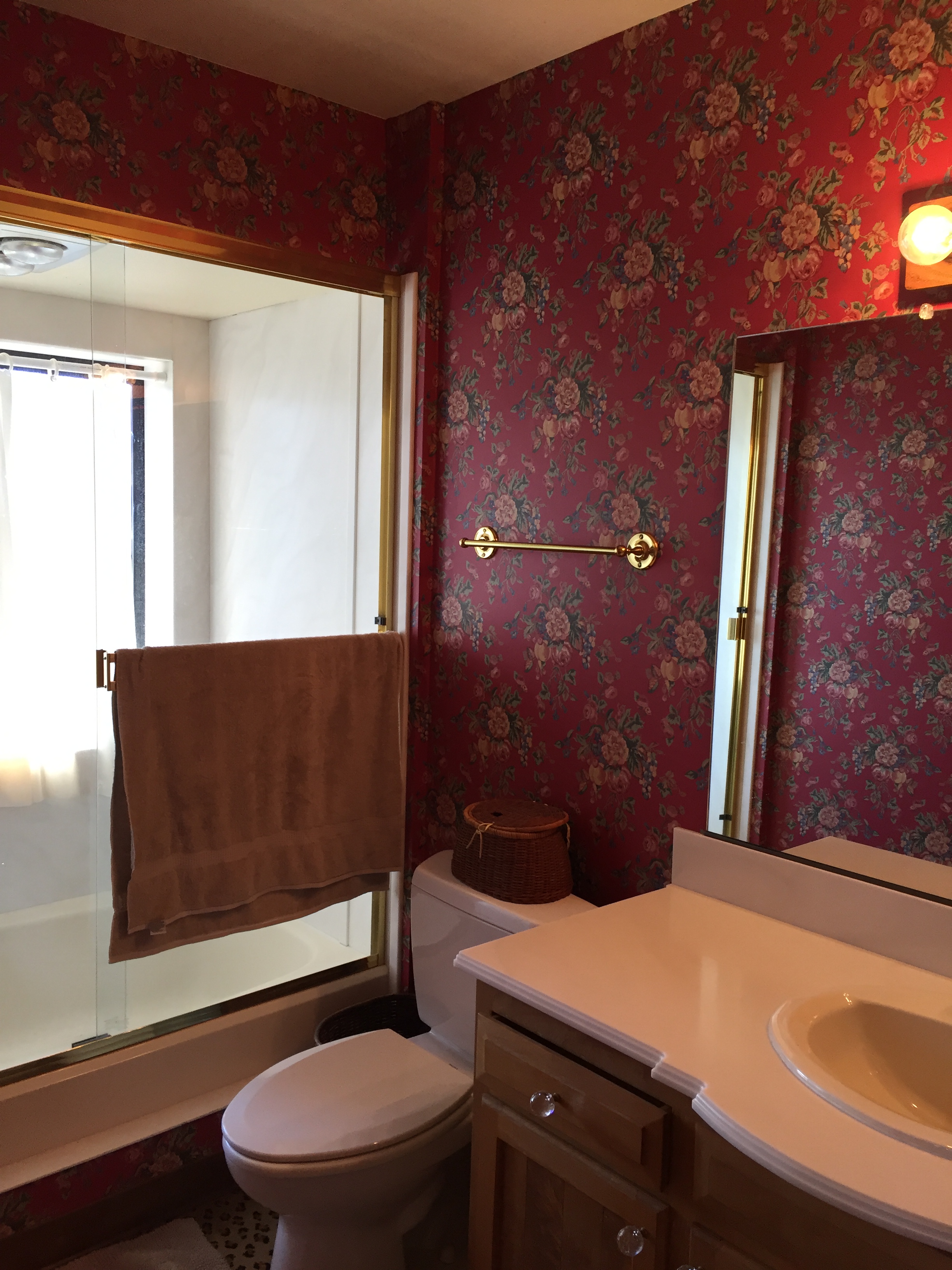 Main Level Bedroom with Queen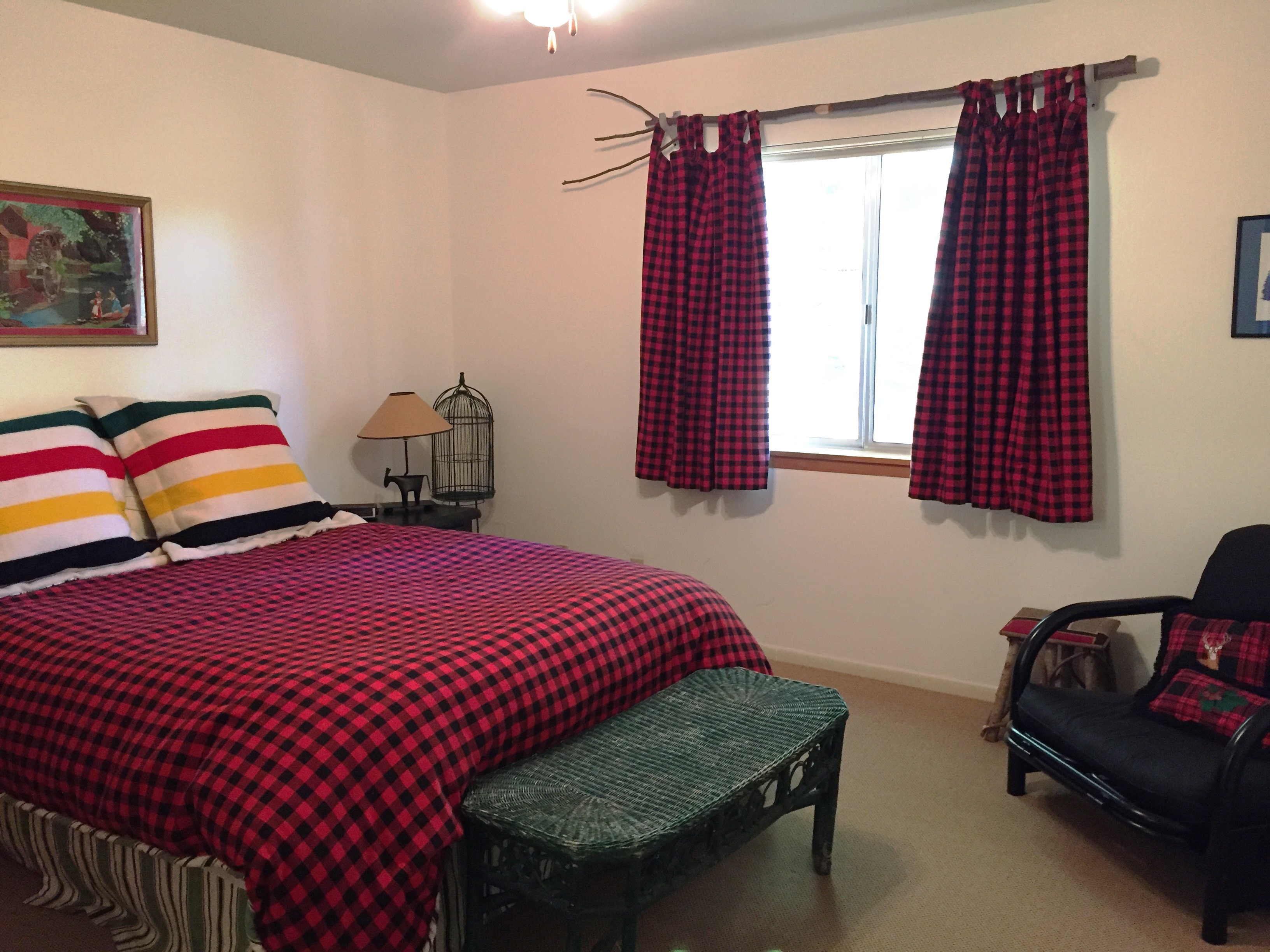 Main Level Bedroom with 2 Twin Beds
Main Level Bedroom with 2 Twin Beds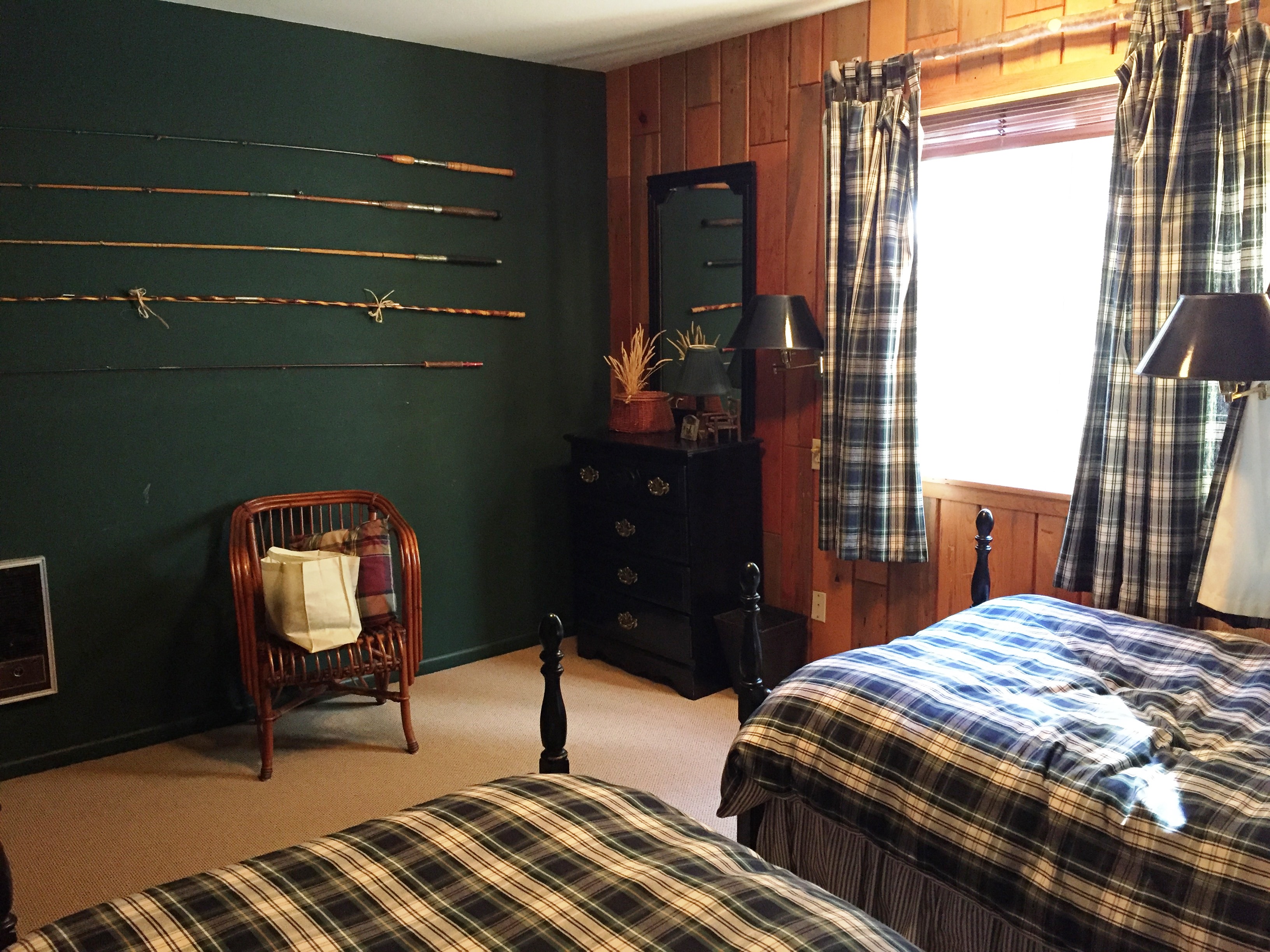 Main Level Bathroom with Tub/Shower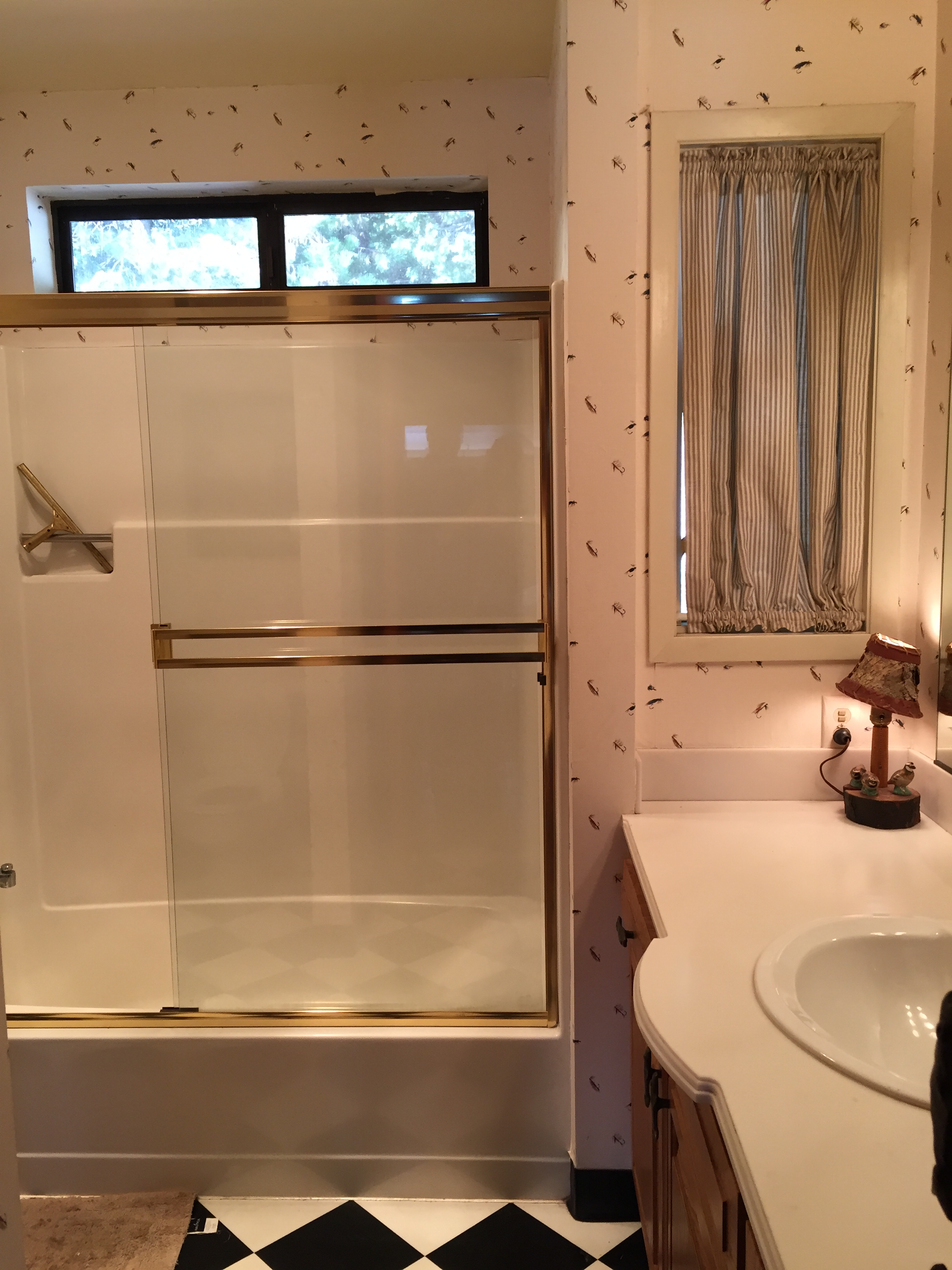 Lower Level Bedroom with 2 California Kings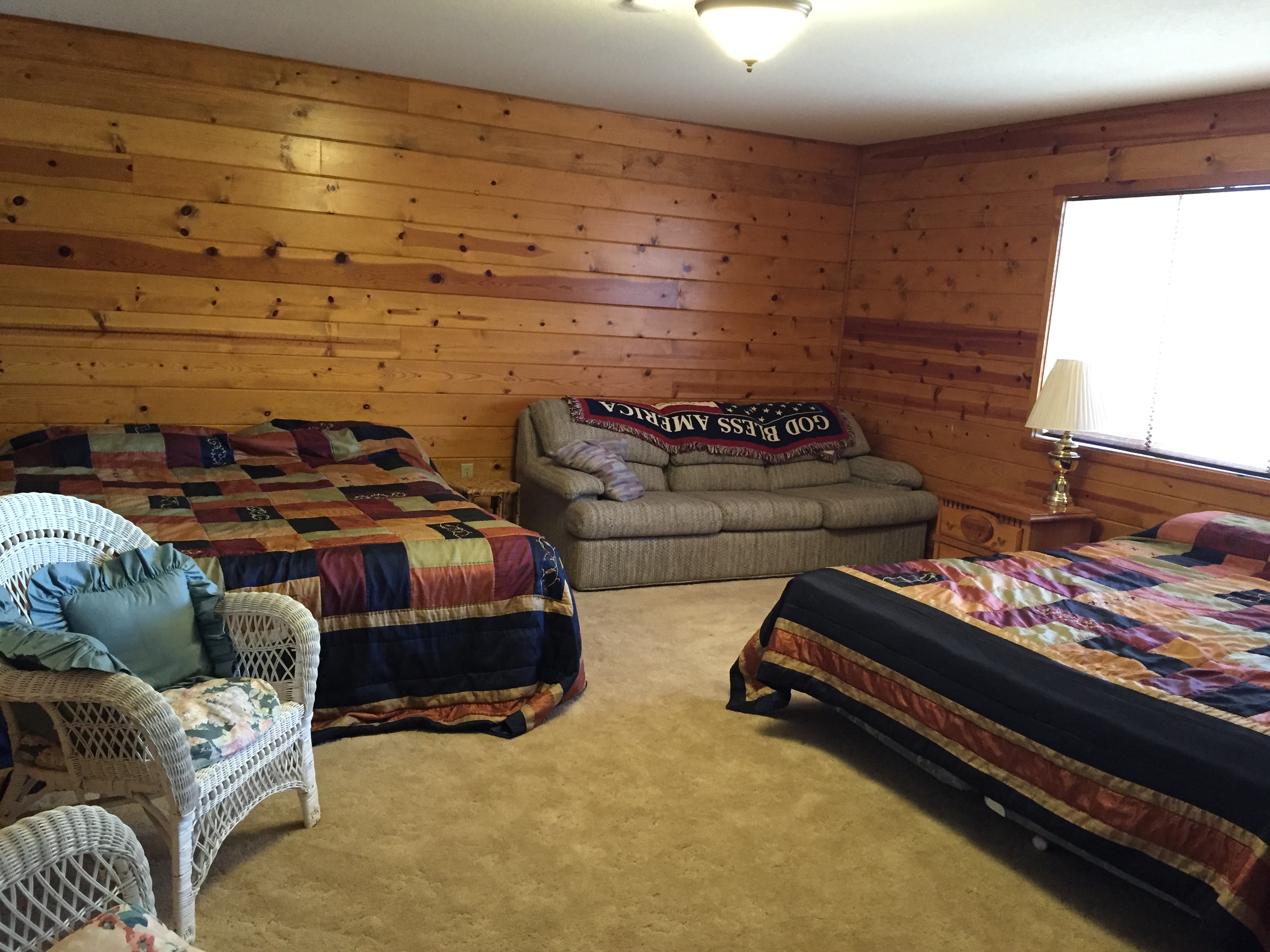 Small Bunk Room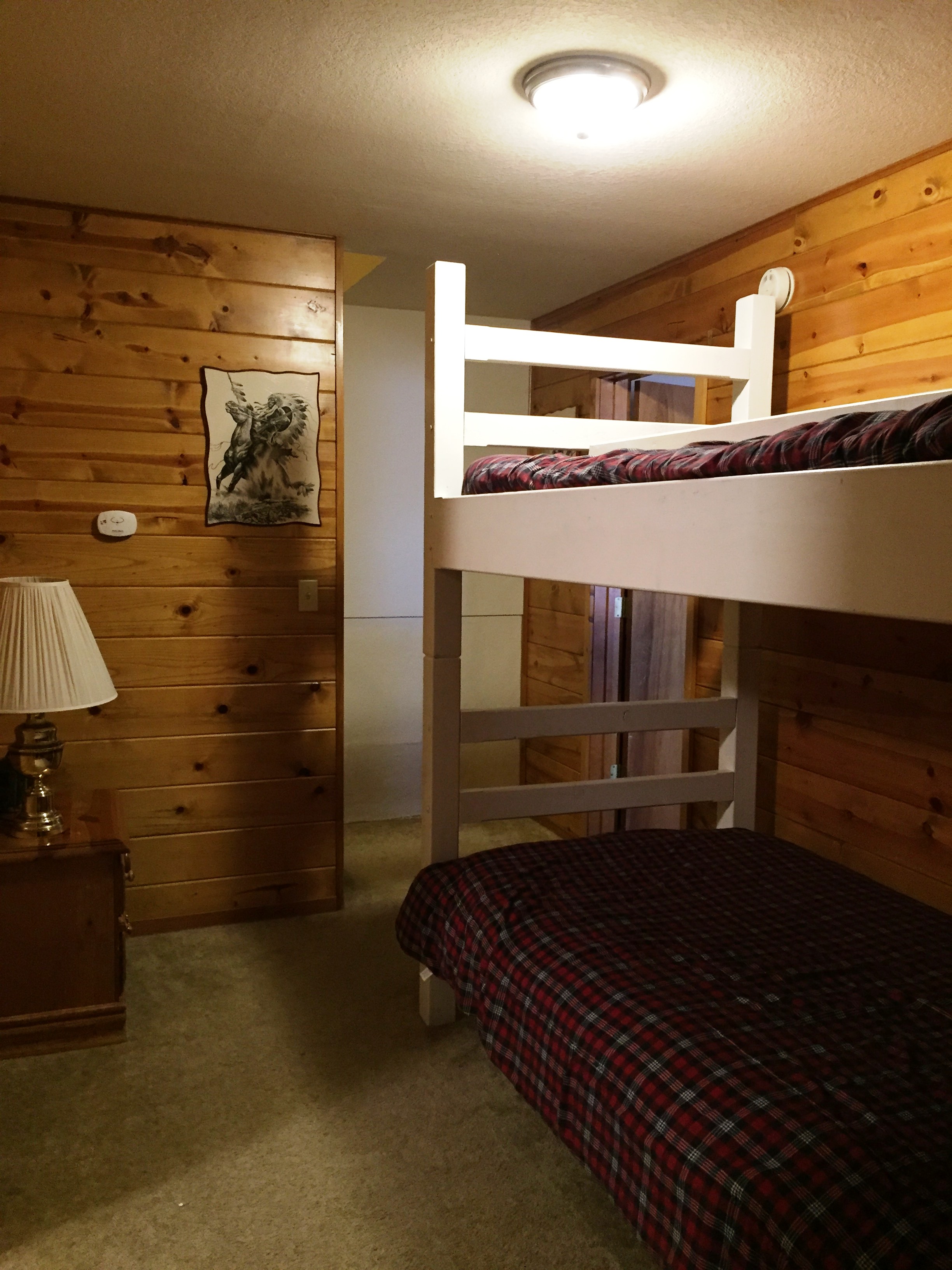 Lower Level Bathroom with Shower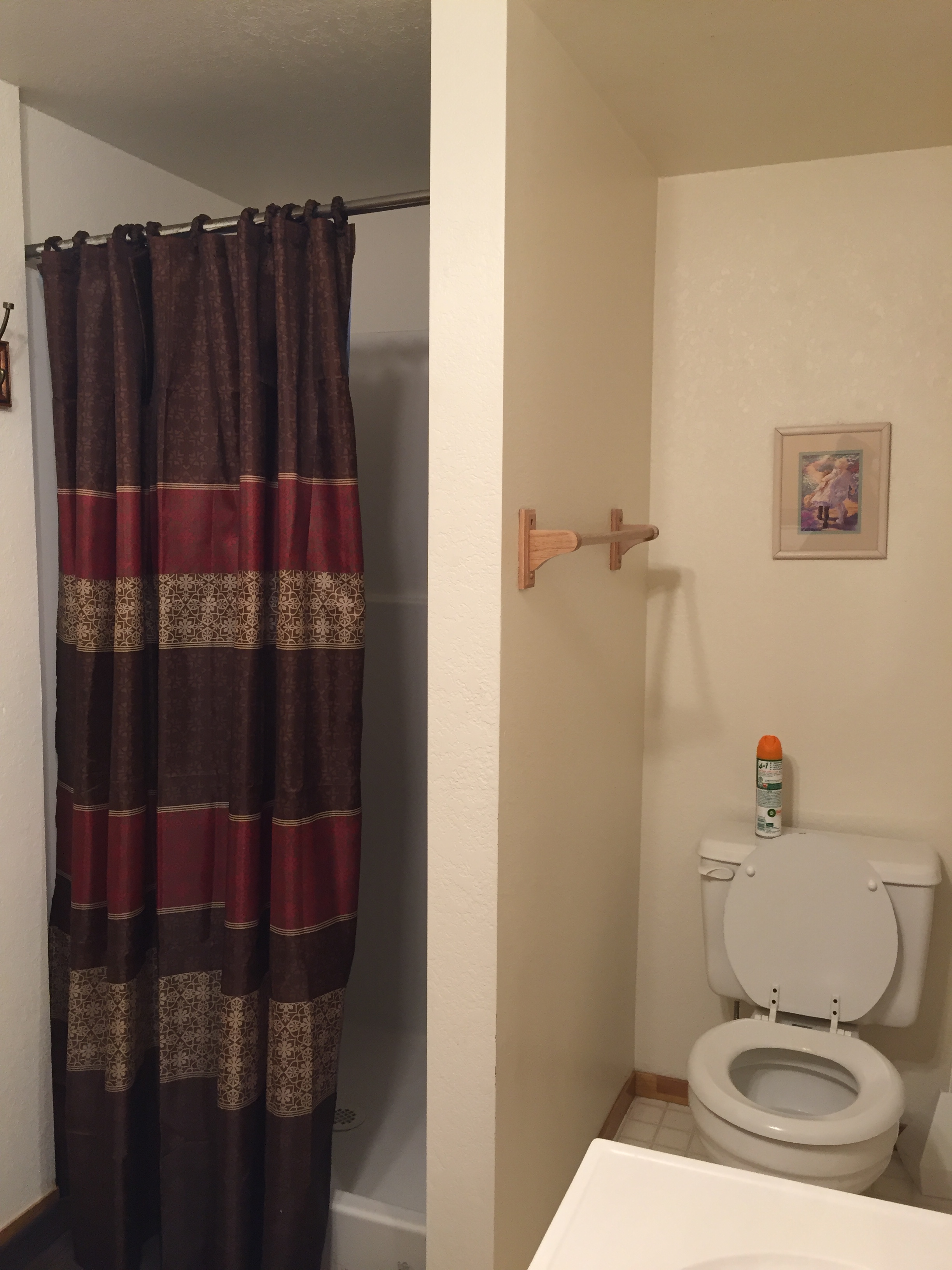 Lower Level Laundry Room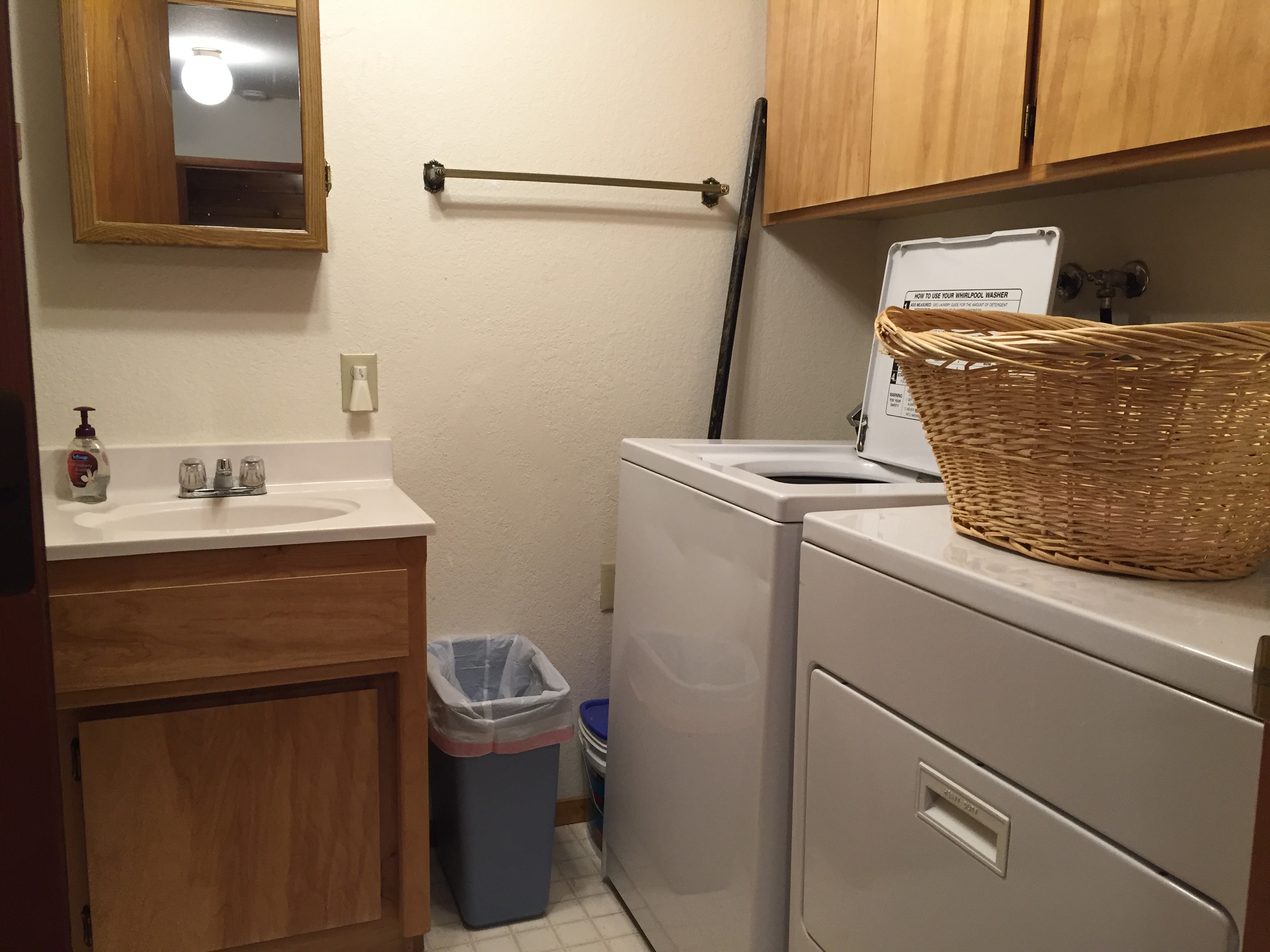 Home Features
2 Buoys Included
Basketball hoop
Boat Launch Use Available
Cable/Satellite TV
Carpeted Floors
Dishwasher
Dock and Buoy
Electric Range
Extra refrigerator
Internet Access
Lake View
Lakefront
Lawn
Microwave
No Air Conditioning
No Pets
No Smoking
Patio Furniture
Patio/Deck
Private Dock
Propane BBQ
Range/Oven
Refrigerator
Washer/Dryer
Wireless Internet
Community Features
Boat Launch Available
Boating
Golf Course
Playground/Park
Tennis Courts
Property Details
Priced at $3,800 per week
668 Peninsula Drive
Lake Almanor, CA 96137

Area: Lake Almanor Country Club
Beds: 5
Baths: 3
Square Feet: 2510
Max Occupancy: 14
Security Deposit: $1000
Sanitizing Fee: $175
Registration Fee: $30
Garage: None
Year Built: 1982

9% Plumas County Tax

Property Availability
January 2020
M
T
W
T
F
S
S
1
2
3
4
5
6
7
8
9
10
11
12
13
14
15
16
17
18
19
20
21
22
23
24
25
26
27
28
29
30
31
February 2020
M
T
W
T
F
S
S
1
2
3
4
5
6
7
8
9
10
11
12
13
14
15
16
17
18
19
20
21
22
23
24
25
26
27
28
29
March 2020
M
T
W
T
F
S
S
1
2
3
4
5
6
7
8
9
10
11
12
13
14
15
16
17
18
19
20
21
22
23
24
25
26
27
28
29
30
31
April 2020
M
T
W
T
F
S
S
1
2
3
4
5
6
7
8
9
10
11
12
13
14
15
16
17
18
19
20
21
22
23
24
25
26
27
28
29
30
May 2020
M
T
W
T
F
S
S
1
2
3
4
5
6
7
8
9
10
11
12
13
14
15
16
17
18
19
20
21
22
23
24
25
26
27
28
29
30
31
June 2020
M
T
W
T
F
S
S
1
2
3
4
5
6
7
8
9
10
11
12
13
14
15
16
17
18
19
20
21
22
23
24
25
26
27
28
29
30
July 2020
M
T
W
T
F
S
S
1
2
3
4
5
6
7
8
9
10
11
12
13
14
15
16
17
18
19
20
21
22
23
24
25
26
27
28
29
30
31
August 2020
M
T
W
T
F
S
S
1
2
3
4
5
6
7
8
9
10
11
12
13
14
15
16
17
18
19
20
21
22
23
24
25
26
27
28
29
30
31
September 2020
M
T
W
T
F
S
S
1
2
3
4
5
6
7
8
9
10
11
12
13
14
15
16
17
18
19
20
21
22
23
24
25
26
27
28
29
30
October 2020
M
T
W
T
F
S
S
1
2
3
4
5
6
7
8
9
10
11
12
13
14
15
16
17
18
19
20
21
22
23
24
25
26
27
28
29
30
31
November 2020
M
T
W
T
F
S
S
1
2
3
4
5
6
7
8
9
10
11
12
13
14
15
16
17
18
19
20
21
22
23
24
25
26
27
28
29
30
December 2020
M
T
W
T
F
S
S
1
2
3
4
5
6
7
8
9
10
11
12
13
14
15
16
17
18
19
20
21
22
23
24
25
26
27
28
29
30
31